Krista Johnston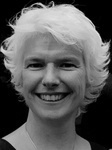 Krista is an Edinburgh University Honours graduate. She has been in criminal defence work since 1990. She was made a partner in More and Co at the age of 29. She established Martin Johnston Socha in 1998 and has been a partner and now a Director of this growing company ever since.
Krista became a solicitor advocate in 2007. She has now conducted many High Court trials achieving acquittals in cases from rape to robbery. She covers all aspects of the Criminal courts and will accept instructions in all areas. Krista has an excellent record of success and is the most instructed female solicitor advocate in Scotland, according to most recent Legal Aid figures.
With the acquisition of an office in Alloa, Krista has a supporting managerial role there and intends to help develop and grow the practice of Martin Johnston and Socha in this jurisdiction by appearing in the local Sheriff Courts.
For 30 years Krista has been appearing in courts all over Scotland. She now has 12 years experience as a Solicitor advocate appearing in the High court and her level of instruction reflects her competence and professionalism.
Krista was appointed to the Scottish Sentencing Council in December 2018, a position she will hold for 5 years. She is a member of the Society of Solicitor Advocates, and the Society of Solicitors in the Supreme Courts.
Krista has an excellent record of success. She is the first female to attain the accreditation of senior solicitor advocate, which is recognition that she can defend in the most serious and complex of cases
Contact Krista Johnston
Telephone: 01259 725 922
Email: This email address is being protected from spambots. You need JavaScript enabled to view it.